Biography
FONS MUSICAE
Fons Musicae was founded in 1997 by the lutenist Yasunori Imamura. For the most part this group, whose name means "The Fountain of Music", performs mainly French, Italian, German and English music of the 17th and 18th centuries. As the name implies, Fons Musicae play their repertoire with originality, vivacity and invention.
Their performances throughout Europe and the Far East (such as Göttinger Haendel Festspiel, Baroque Festival in Marseille, Brezice Baroque Festival, Baroque Festival in Luxembourg, Hokutopia Baroque Festival in Tokyo and so on) are universally applauded by the press. Indeed their debut CD, performing the "Airs de Cour" of Michel Lambert, was awarded the "Classica prize" by Classica magazine ( 07,08 / 1998 ). The ensemble has also recorded a CD containing cantatas and sonatas by Giovanni Bononcini and another with cantatas and sonatas by Agostino Steffani, which was awarded the prize "Sterne des Monats" by Fono Forum Magazine ( 03 / 2002 ). In 2002 their fourth CD ( the cantatas by Antonio Caldara ), in 2006 their fifth CD ( the cantatas by Francesco Gasparini ) and in 2014 their sixth CD ( "Lagrime Mie" by Barbara Strozzi ) are released.
Yasunori Imamura
theorbo and director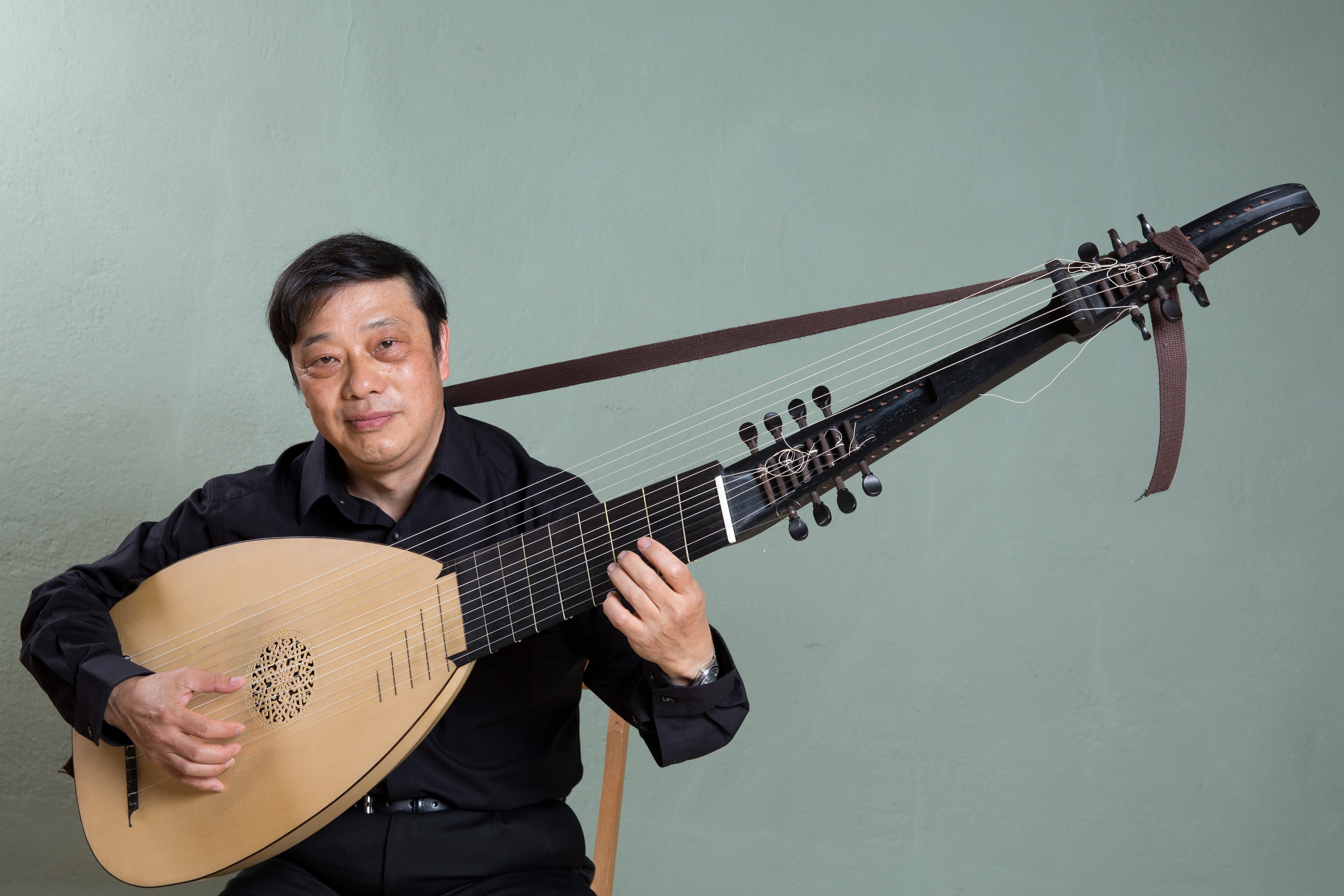 Yasunori Imamura was born in Osaka, Japan. He studied lute with Eugen M. Dombois and Hopkinson Smith at the Schola Cantorum in Basel, where he received his soloist's diploma in 1981. Subsequently, he worked on interpretation and bass continuo with Ton Koopman and Johann Sonnleitner and composition with Wolfgang Neininger. Today, Imamura is recognised as one of the prominent figures of the lute, both as soloist and recording artist, as well as a continuo-player. He has appeared at numerous international festivals in Europe and the Far East.
The following solo recordings by Yasunori Imamura have appeared so far :
-Simone Molinaro / Complete Fantasias (Deutsche Harmonia Mundi),
-Johann Sebastian Bach / Complete Works for Lute Vol. 1 (Etcetera)
-Johann Sebastian Bach / Complete Works for Lute Vol. 2 (Etcetera)
-Robert de Visée / Pièces de théorbe, Suite in G &A-Major, e & c-minor etc. (Capriccio)
-Silvius Leopold Weiss / Lute Sonatas in C-Major, A-Major etc. (Capriccio)
-Silvius Leopold Weiss / Lute Sonatas in Bflat-Major, a-minor etc. Vol.1 (Claves)
-Silvius Leopold Weiss / Lute Sonatas in D-Major, g-minor etc. Vol.2 (Claves)
-Spanish music for vihuela from the time of Charles V (Querstand)
-Johann Sebastian Bach / Complete Works for Lute Vol. 1 & 2 (Naxos)
These recordings have received excellent reviews in various audio magazines. Lute Sonatas Vol.1 by Weiss (Claves) was awarded the "Diapason d'Or" prize by French Diapason Magazine in July-August 2006 and Lute Sonatas Vol.2 by Weiss (Claves) was awarded the "Le Joker de Crescendo" prize by Belgian Crescendo Magazine in September-October 2008. Yasunori Imamura received the "Cultural Achievement Award" by the Canton of Solothurn (Switzerland) in 2010.
Besides his activities as soloist, Yasunori Imamura has collaborated as continuo player with various well-known artists including Cecilia Bartoli, Teresa Berganza, Gérard Lesne, Nuria Rial, Joyce DiDonato, Max Emanuel Cencic, Marc Minkowski, Ton Koopman, Jos van Immerseel, William Christie, Philippe Herreweghe, Michael Schneider, Martin Gester, Maurice Steger, Masaaki Suzuki, Christophe Rousset, Paul Goodwin and Alan Curtis. He has recorded around 150 LPs and CDs for Deutsche Grammophon (Archiv-Production), Deutsche Harmonia Mundi, Harmonia Mundi France, Erato, Philips, Decca, Virgin Classics, Capriccio, Etcetera, Claves, Accord, Adda, OPUS 111, Ades, CPO Osnabrück, Astrée, Denon, Fnac Music, Pan Classics, Zig-Zag Territoires, DRC, Naxos and Symphonia.
He is a professor for lute at the Conservatoire National de Strasbourg as well as at the Hochschule für Musik und Darstellende Kunst, Frankfurt am Main. He also regularly gives master classes in Europe and the Far East.
He is a member of La Stagione, Frankfurt (dir. Michael Schneider), Les Musiciens du Louvre, Grenoble (dir. Marc Minkowski), Le Parlement de Musique (dir. Martin Gester), Camerata Köln, and Il Complesso Barocco (dir. Alan Curtis).
In 1997 Yasunori Imamura founded the ensemble "Fons Musicae," performing throughout Europe and the Far East. To date they have made six recordings (Michel Lambert, Giovanni Bononcini, Agostino Steffani, Antonio Caldara, Francesco Gasparini and Barbara Strozzi) that have earned various international awards such as the "CLASSICA" (Classica magazine) or the "Sterne des Monats" (Fono Forum Magazine).
Dorothée Leclair
soprano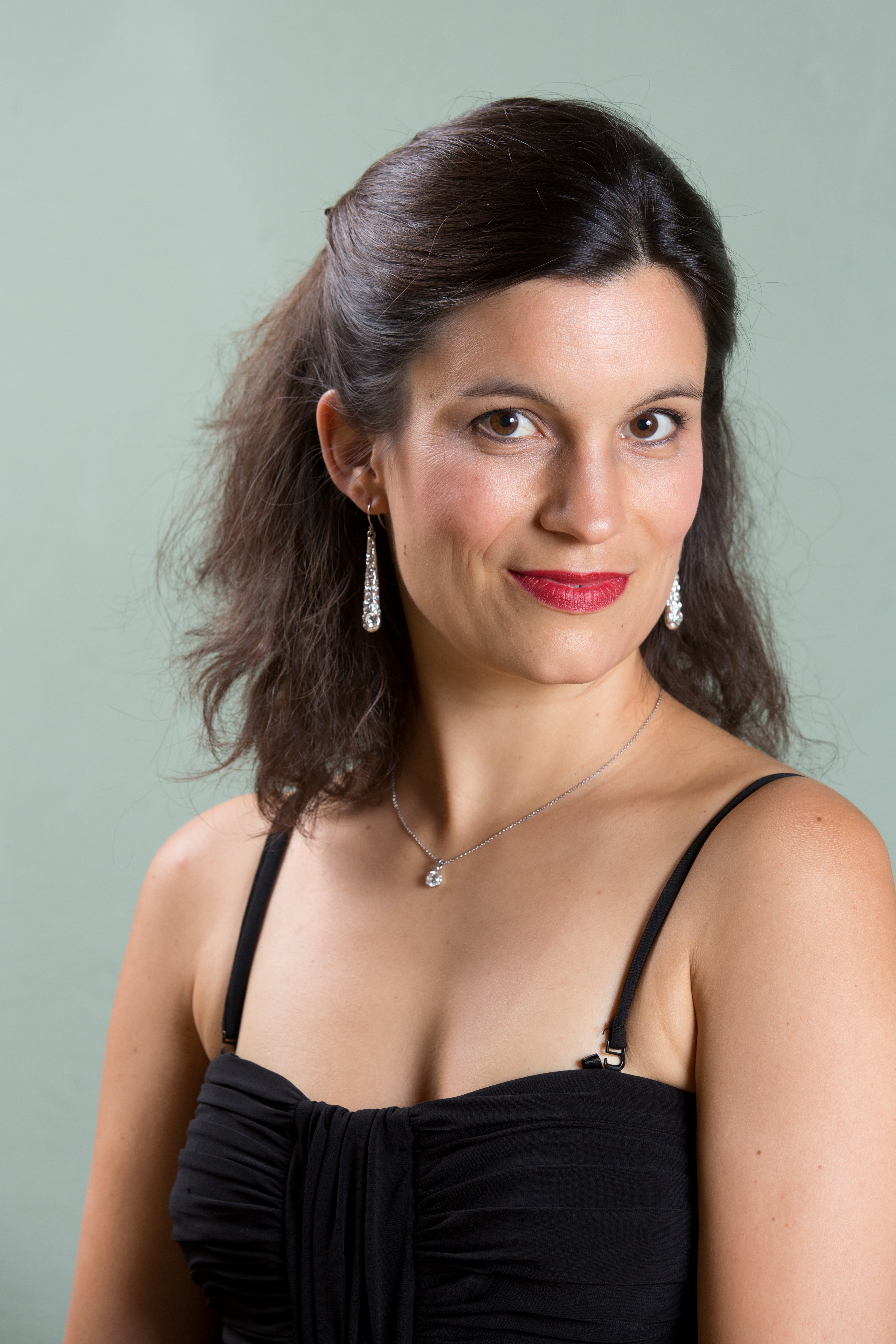 After ten years of a rich and eclectic musical life as a violist with various prestigious orchestras, Dorothée Leclair decides to focus on her singing career. She joined the Department of Baroque Music at the Conservatoire Supérieur de Paris in the class of Howard Crook and Kenneth Weiss, and continued her professional development at the center for vocal studies at the Royaumont Foundation (internships with Gerard Lesne), and with such figures as Malcolm King and Guillemette Laurens. During her vocal studies, she performed the roles of Belinda (Purcell's Dido and Aeneas at the Théâtre des Variétés, Monte Carlo), and Sangaride (Lully's Athys in Paris under the direction of Howard Crook).
She regularly sings as a soloist with the Capriccio Stravagante (Skip Sempé), with whom she recorded the Pellegrina interludes in Brussels in May 2007 (Paradizo label). She also appears with the Simphonie du Marais (Hugo Reyne, recording Lully's ballet Les Arts in spring 2008), and Les Demoiselles de Saint-Cyr (Emmanuel Mandrin), with whom she recorded Couperin's Leçons de Ténèbres (Ambronay label, 'Diapason d'Or' award). Dorothée Leclair collaborated with the Opera Comique in Paris as an understudy for the Korean soprano Sumi Jo in Auber's Fra Diavolo (January 2009). She also performed during the 2009/2010 season at the Opera de Lille led by Emmanuelle Haim (Rameau's Dardanus). She played the role of the Queen of the night, as well as the First Lady in Mozart's Magic Flute at the Festival of Saint-Céré and on tour throughout France. Other notable appearances include performances in Toulouse singing Haendel's Messiah conducted by Joel Suhubiette (The Elements ensemble), at the Ambronay Festival with the Orchestre de Pau for Fauré's Requiem, and in residence at the Paradyz festival (Poland) with the Parlement de Musique ensemble, led by Martin Gester, where she sang a programme of French and Italian cantatas. More recently she has sung at the Cité de la Musique in Paris (J-P Rameau's opera Naïs, directed by Hugo Reyne), and at the Théâtre des Champs Elysées for the tenth anniversary of the Concert d'Astrée ensemble, founded and conducted by Emmanuelle Haïm.
At the end of 2011 Dorothée Leclair released a CD of cantatas by Montéclair and Clérambault, recorded with Le Parlement de Musique and led by Martin Gester (K617 label, "5 Diapasons" award).
Lea Rahel Bader
baroque cello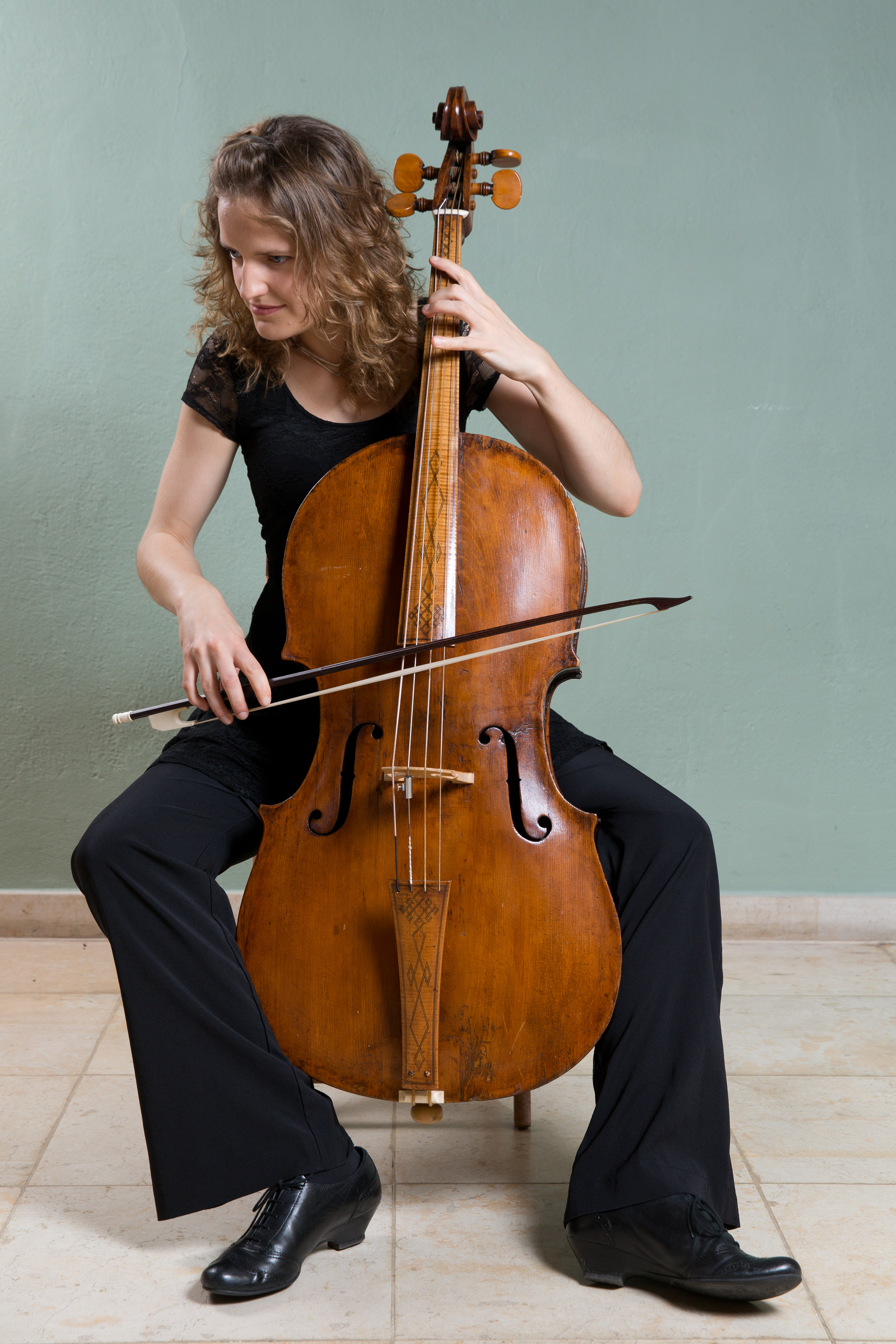 Lea Rahel Bader initially studied cello with Hans-Jakob Eschenburg and Stephan Forck at the Hanns Eisler Academy of Music in Berlin. Other teachers includes Claudio Bohorques and Peter Bruns. On completing her diploma, she moved to Frankfurt (Main) and studied baroque cello with Kristin von der Goltz and Viola da Gamba with Heidi Gröger at the Frankfurt Academy of Music and Performing Arts. She has attended numerous masterclasses (e.g. Phoebe Carrai, David Watkin, Jaap ter Linden) and won prices in several competitions, including a special price from the EUBO Development Trust at the Eighteenth International Bach Competition in Leipzig in 2012 for "the most promising baroque cellist".
She is performing with several baroque Ensembles e.g. with Lautten Compagney Berlin, Akademie für Alte Musik Berlin, Münchner Hofkapelle, Il Pomo d'Oro at festivals like Händel Festspiele in Göttingen and Halle, Thüringer Bachwochen, Styriarte Graz, York Early Music Festival. Lea Rahel Bader has been broadcasted on radios like RBB, MDR, Radio France, BBC and participated in several CD recordings as a first cello e.g. 2013 in Händel´s Tamerlano (Decca) and Agrippina Arias with singer Ann Hallenberg (Naive).
Lea Rahel was member of the European Union Baroque Orchestra 2012 and with the Orchestra of the Age of Enlightment in 2014 (Ann and Peter Law OAE Experience).
She has been the recipient of a scholarship from Yehudi Menuhin's "Live Music Now" foundation (2008-2012).
In 2006 she won the chamber music price at the Oberstdorfer Musiksommer and in 2008 the first price at the Hanns Eisler competition for the interpretation of contemporary music.
For many years Lea Rahel has performed contemporary music both as a soloist and with ensembles at various festivals like Maerz Musik Berlin, Milano Musica, Crosssound Music Festival Alaska, Salzburg Biennale.
Lea Rahel Bader joined the cello faculty at the Kronberg Academy (Emanuel-Feuermann Conservatory) in November 2013.
Jory Vinikour
harpsichord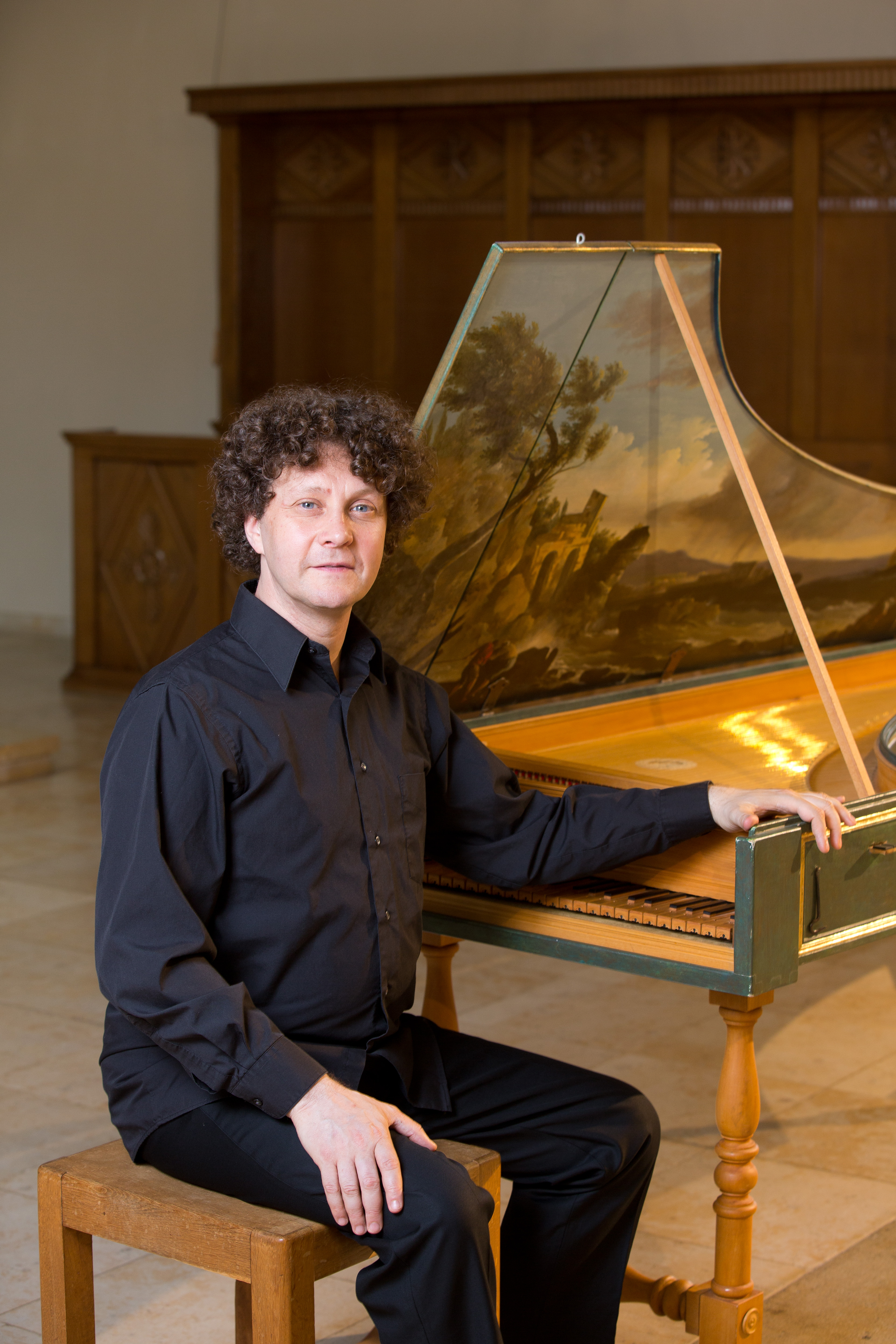 Grammy® Award nominated harpsichordist Jory Vinikour is recognized as one of the outstanding musicians of his generation. A highly diversified career brings him to the world's most important festivals and concert halls as recital and concerto soloist, partner to several of today's finest artists.
Born in Chicago, Jory Vinikour came to Paris on a Fulbright scholarship to study with Huguette Dreyfus and Kenneth Gilbert. First Prizes in the International Harpsichord Competitions of Warsaw (1993) and the Prague Spring Festival (1994) brought him to the public's attention, and he has since appeared in festivals and concert series throughout much of the world.
His debut recording for Sono Luminus, the complete harpsichord works of Jean-Philippe Rameau, was nominated for a Grammy® award, in the category of Best Classical Solo Instrumental Recording in 2012. Sono Luminus will release his recording of 20th century (and beyond) American harpsichord works in late 2013.
Recent appearances include his debut as conductor/soloist with the Hong Kong Philharmonic, as well as an appearance with the Chicago Lyric Opera in Handel's Rinaldo - earning exceptional praise from the press. He performed Poulenc's Concert Champêtre with the Nertherlands Radio Chamber Orchestra, under Benjamin Levy's direction. Mr. Vinikour directed the Korea Chamber Orchestra (Seoul) in an all-Bach programme in May, 2012, and was guest director of musicAeterna (based in Perm, Russia) in a mixed programme, and has co-directed (with violinist Monica Huggett) Juilliard415 Baroque Orchestra at Carnegie Hall, accompanying soprano Dorothea Röschmann and counter-tenor David Daniels. Mr Vinikour has given master-classes for Rocky Ridge (Colorado) Music Center, the Austrian Baroque Academy in Gmunden, Austria; the European Academy at the Palazzo Ricci Montepulciano; the University of Chicago, the Gnessin Academy, and the Tchaikowsky Conservatory.